And then there were Two. Years that is.
Two years ago WaterOx Consulting, Inc. was founded and has been growing ever since.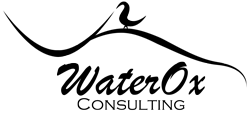 The concept of WaterOx Consulting, Inc. started many years ago, but legally on paper, it was started 2 years ago yesterday. As anyone running a business would attest to, the time flew by regardless of the level of fun. There are days I would celebrate a new client or a presentation well done. Other times I would sit worrying about how the mortgage would be paid as well as feeding the family. Even today, I am working on some new presentations and thinking on how to drum up some new business and I almost blew by completely missing this milestone in any company's life.

A lot has happened and I want to take a little time to reflect back on a few things just to remind myself of what has been accomplished in this short of a time frame.
Company:
Picked up 9 new clients.
Grown through networking, without advertising campaigns.
Clients range in size from a small boutique chocolate shop in NY State, to a large data warehousing and analysis company in the DC area to a few large online retailers.
Developed Egret 1.0, a SQL monitoring tool I use as a consultant that works with multiple locations and clients and centralizes the data for my analysis.
Started developing Egret 2.0, a cloud based version of the Egret monitoring system potentially available for public use.
Successfully registered the trademark for Concierge DBA® – the long term DBA services WaterOx Consulting provides.
Built our website (so far) with blog, photos, and videos pertaining to SQL Server and actually had people read things!
Created & recorded a successful full length SQL DBA training course for LearnNowOnline, as well as a series of courses for Windows 8 / Server 2012 Administration.
Accepted into the Google Helpouts pilot program and now offer services online through the program.
Community:
Presented at my first User Group (NOVASQL) last year.
Started the PASSDC User Group with Matt Velic (b|t) and Paul Rizza (b|t) in April of 2014 and have grown to over 120 members.
Presented at my first SQL Saturday in Rochester, (which is coming up soon, but I can't be there this year).
Presented at 6 more SQL Saturdays over the past year and attended over 13 in total.
Presented webinars on SQL topics for LearnNowOnline community members as well as PASS User Groups.
Presented my 'Optimizing Protected Indexes' session at the Information Security Summit in Ohio.
Co-ordinated the last 2 SQL Saturdays in Washington DC.
Cruised 3 times on SQLCruise (1 Alaska, 2 Caribbean).
Attended PASS Summit in 2013 for the first time.
Was a finalist in 2012 for Red Gate Software's Exceptional DBA award.
Ran for the PASS Board of Directors and actually made the final slate! I had to withdraw due to some issues that came up with clients, but I will most likely run again.
Not to shabby. I am still striving to find more clients and more ways to give back to the community. This year I am looking forward to trying to get Egret 2.0 out for use. I am also excited to be working towards offering a couple of multi-day training courses in D.C. and other areas, including a week of private SQL training in 2015 in the Bahamas. Keep tuned for those exciting announcements & offers!
All in all the first couple of years, like any new venture, have not been easy but things have worked out pretty well so far.
This was never intended as a get rich quick scheme (trust me, it would be nice, but it isn't making me rich at all!) but a way to be able to provide outstanding service and help to SQL users and the community.
On to the next 2 years, and more.